Y24 Handheld Rock Drill Pneumatic Rock Drill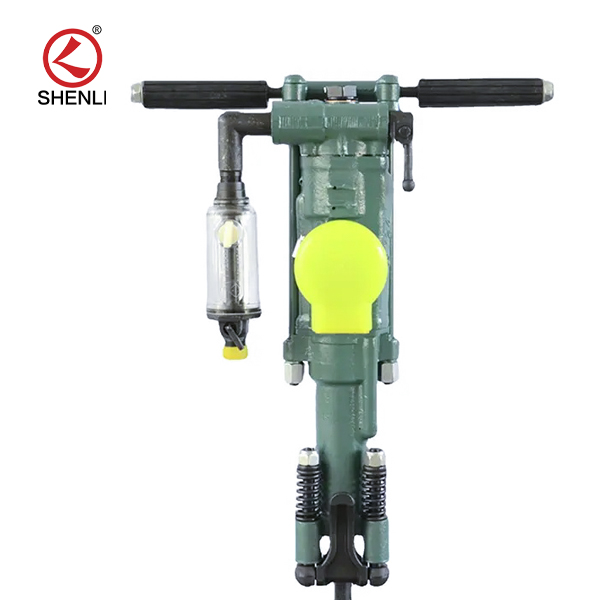 Y24 Handheld Rock Drill Pneumatic Rock Drill
Product description: Y24 hand-held rock drill is a variant of YT24 air-leg rock drill in our factory. It has the advanced level in China and was rated as the high quality product in 1987. It is sui……
Product description:
Y24 hand-held rock drill is a variant of YT24 air-leg rock drill in our factory. It has the advanced level in China and was rated as the high quality product in 1987. It is suitable for second blasting and downhole drilling in foreign quarries. It not only maintains the excellent performance of YT24 rock drill, but also enhances the ability of blowing and cleaning the hole. Therefore, it is more suitable for drilling downward gun holes.
Y24Hand-held rock drills are mainly used for drilling and blasting in mines, railroads, water conservancy and rock projects, and can drill dry and wet rock drilling on medium-hard or hard rocks, and drill vertical or inclined holes downwards. In addition, our company provides all the Y24 rock drill parts as follows: piston, rotating sleeve, spiral rod, brass nut, valve set, ratchet, wind plate, tower spring, manipulating valve, shank body, cylinder body, main body, brazing sleeve, brazing card, brazing card bolt, oil injector, water injection valve body, fastening pin, ratchet pawl, air pipe nut, air pipe elbow, water needle, etc.
Application areas:
Mainly used in mining, railroad, water conservancy and stone works in the drilling of shell holes and secondary blasting and other operations.
Product features:
The operator is subjected to less machine vibration force, more powerful ballast force, and strong and durable parts. Especially suitable for drilling vertical downward blast holes.
Technical parameters:
| | |
| --- | --- |
| Model | Y24 |
| Machine weight (kg) | 24 |
| Machine length(mm) | 604 |
| Cylinder diameter (mm) | 70 |
| Piston stroke (mm) | 70 |
| Working air pressure | 0.4~0.5 |
| Impact energy  (J) | 44.7 |
| Impact frequency(Hz) | ≥27 |
| Air consumption (l/s) | ≤55 |
| Working water pressure (MPa) | 0.2~0.3 |
| Inner diameter of air pipe (mm) | φ19 |
| Water pipe inner diameter (mm) | φ13 |
| Hole diameter (mm) | φ34~φ42 |
| Hole depth (m) | 5 |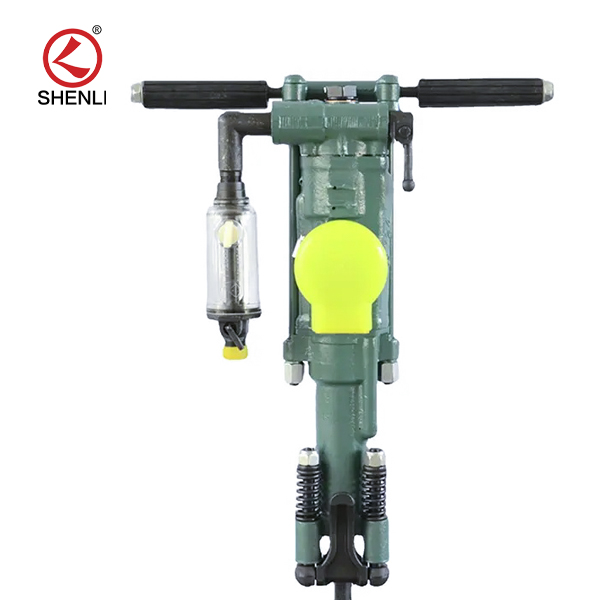 When searching for a dependable and high quality tool to perform second blasting or downhole drilling in quarries consider using the Y24 Hand Held Rock Drill. This variant of the acclaimed YT24 air leg rock drill offers excellent performance capabilities due to its advanced technology.
Ranked as a top quality product in 1987 the Y24 has continued to prove its durability and effectiveness throughout challenging drilling applications. Its powerful blowing and cleaning mechanisms make it ideal for downward gun hole drilling providing superior accuracy and precision for successful task completion. The Y24 Hand Held Rock Drill is designed explicitly to maintain the exceptional performance of its predecessor (the YT24) while also improving capabilities concerning blowing power and hole cleaning qualities.
This innovative design feature distinguishes it from competing rock drills by providing faster speed coupled with greater accuracy when drilling. Whether you are new to this industry or an experienced professional trust that this device provides both reliability and precision needed to complete projects successfully.
The Y24 Hand Held Rock Drill is a top quality product, perfect for professionals in the drilling industry. Its ergonomic design and lightweight construction make it easy to handle and transport while its powerful motor ensures that you can drill through tough rock surfaces with ease.
Furthermore maintaining the Y24 Drill is a breeze thanks to its simple design. You can quickly replace worn or damaged parts without any specialist tools or equipment required. This not only saves time and money but guarantees the longevity of your investment.
With its advanced technology and exceptional performance the Y24 is an ideal tool for second blasting downhole drilling in quarries and downward gun holes.