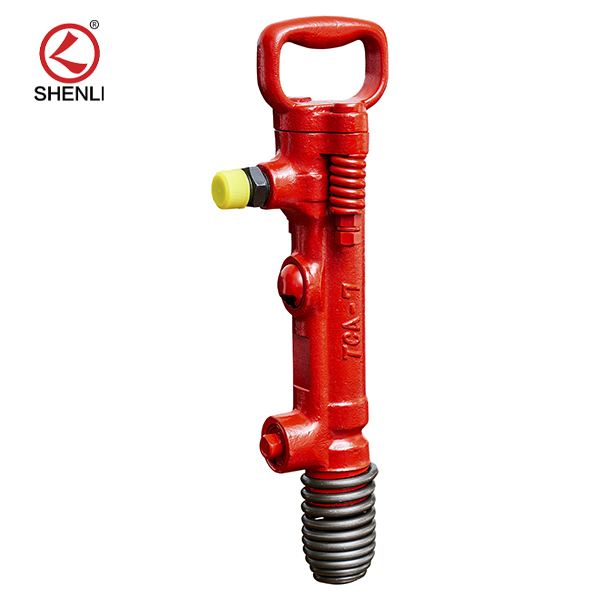 TCA7(G7) Pneumatic Pick Air Shovel Cement Crusher Pneumatic Chipping Hammer
Product introduction: Adopted Japan's Toku technology, the air picks with proven forging technology are durable, lightweight and good performance, and easy to operate. Mainly used for. Breaki……
Product introduction:
Adopted Japan's Toku technology, the air picks with proven forging technology are durable, lightweight and good performance, and easy to operate. Mainly used for.
Breaking concrete, breaking permafrost, breaking the ice; road repair, planing pits, trenching; mining soft rock, coal mining, etc. Replacement attachments can be used for such as loading and unloading track pins and other construction work that requires impact is more flexible and lighter than similar products, suitable for all-round work, especially in small working spaces, upward or ascent. It is also very popular as an air shovel.
Function:
High durability and long life
Durable forging body, long service life.
Replaceable bushing prevents cylinder wear.
Simple to operate and maintain
The automatic push-up mechanism, smooth operation.
Lightweight, easy to operate.
Simple structure, few parts, easy maintenance.
Technical parameters.
| | |
| --- | --- |
| External dimensions (L×W×H) | 456×160×110mm |
| Machine weight | 7.2kg |
| Piston diameter | 35mm |
| Stroke of hammer body | 120mm |
| Weight of hammer body | 0.6kg |
| Working air pressure | 0.4-0.49Mpa |
| Impact energy | (0.49 Mpa) ≥30J |
| Impact frequency | (0.49 Mpa) ≥21.6Hz |
| Air consumption | (0.49 Mpa) ≤20L/S |
| diameter of air pipe | 19mm |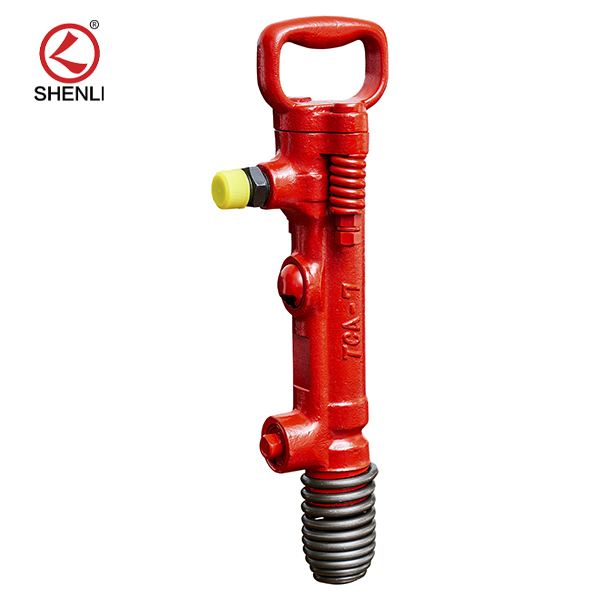 Our company has always been dedicated to bringing cutting edge industrial equipment solutions to our customers which enhance productivity while ensuring quality standards are met consistently. Introducing our high durability and long life forging press – an incredible advancement in industrial equipment engineering that will revolutionize how you manufacture complex machinery parts.
Equipped with robust forging components built for longevity and endurance under severe working conditions this machine sets itself apart as a formidable addition to any manufacturing setup.
Its replaceable bushing feature guarantees optimal cylinder function throughout its operational lifespan resulting in reduced downtime costs associated with maintenance or repair services.
Ease of use translates into added benefits when it comes down to reducing operator downtime due to system failure. Our auto push mechanism technology delivers smooth function enabling minimal intervention thus enabling more time spent producing instead of dealing with maintenance issues common in the industry.
This machines low maintenance design coupled with easy to manage components and a lightweight frame makes it a highly transportable solution to move around your workspace. With fewer parts susceptible to breakage or damage compared to other machines maintenance is quick, easy and hassle free. If you're looking for an industrial press that won't let you down look no further than Our Companys high durability forging press- this versatile machine offers an array of impressive features designed to make your manufacturing process faster and more efficient than ever before. You'll love how easy it is to use – even if you're a beginner- it makes light work of large scale production runs as well as smaller projects.
What sets our forging press apart from other hydraulic presses on the market? To start with its unmatched technical specifications – boasting up to XX tons of maximum pressure capacity – allows it smoothly handle even the toughest applications with ease. This powerhouse machine provides consistently reliable output thanks to its operating pressure range which fluctuates between XXXtoXXX.Now add in durable construction that ensures longevity despite heavy usage and minimal upkeep requirements – Its clear why Our High Durability & Long Life Forging Press is a smart investment that will serve your facility well for years to come!!!