YT27 Air Leg Pneumatic Rock Drill Pusher Leg Rock Drill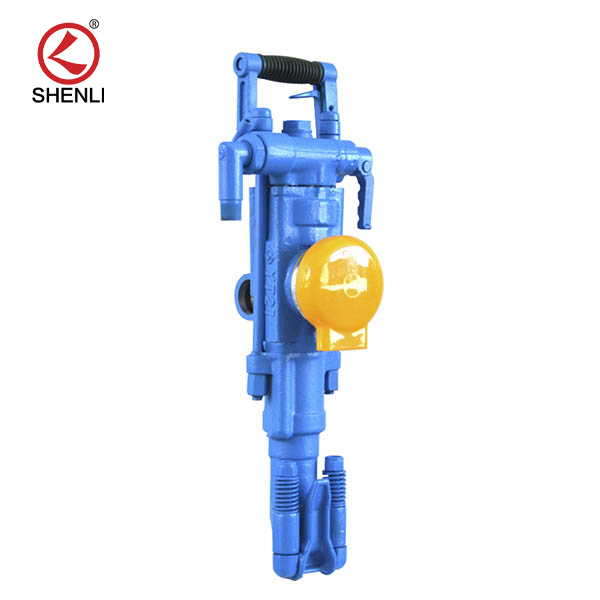 YT27 Air Leg Pneumatic Rock Drill Pusher Leg Rock Drill
Short Description: The YT27 air-legged rock drill is a highly efficient lightweight rock drill suitable for downward or inclined drilling in medium-hard or hard (f=8 – 18) rock with a diameter……
Short Description:
The YT27 air-legged rock drill is a highly efficient lightweight rock drill suitable for downward or inclined drilling in medium-hard or hard (f=8 – 18) rock with a diameter of 34 – 45 mm and an effective drilling depth of up to 5 m.
Product Features:
Features
1、The YT27 air leg rock drill has the features of strong function of blowing and cleaning the gun hole and high torque of turning to braze
2、In addition to the advantages of the YT27 air-legged rock drill, it also adopts the flange control valve to produce gas and other functions.
3、The YT27 air-legged rock drills are most suitable for rock drilling in large mines and roadway projects.
4、With air-water linkage, air-leg quick return, air pressure adjustment, and other mechanisms.
5、Control handles are concentrated around the handle, the mechanism is novel and easy to operate
6、The sound-deadening cover can effectively reduce noise and change the direction of exhaust at will, improving the working conditions on-site.
Application areas:
Railway, tunnel, highway, metallurgy, coal mine, water conservancy and hydropower construction projects.
Technical specifications:
| | |
| --- | --- |
| Model: | Yt27 |
| N.W.: | 27kg |
| Length: | 668mm |
| Bit Head Size: | R22×108mm |
| Air Consumption: | ≤80 L/S |
| Percussive Frequency: | ≥36.7 Hz |
| Impact Energy: | ≥75.5 J |
| Boreholes Diameter: | 34-45mm |
| Piston Diameter: | 80mm |
| Piston Stroke: | 60mm |
| Working Air Pressure: | 0.63 Mpa |
| Working Water Pressure: | 0.3 Mpa |
| Drilled Holes Depth: | 2m-5m |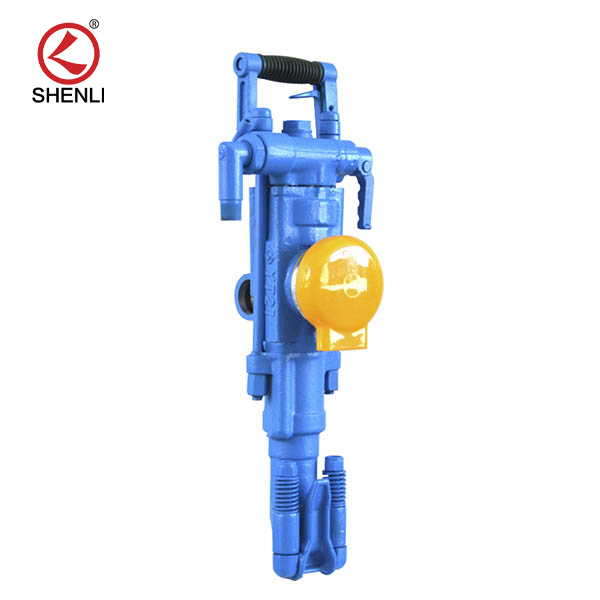 The dynamic and efficient YT27 air leg rock drill is the ultimate tool for any major construction or mining venture. Its powerful blowing and cleaning function of the gun hole combined with high torque turning makes this rock drill a must-have in any professional setting.
The YT27 excels in versatility thanks to its incorporation of the flange control valve which produces gas among other functions.
The advanced mechanisms of air-water linkage, air-leg quick return alongside adjustable air pressure make this device extremely efficient while still maintaining excellent performance levels every time it's used.
The ease of operation provided by its user-friendly handle ensures maximum productivity throughout projects both large scale or small scale. Are you willing to compromise on quality when you can have the best?
Embrace excellence by acquiring the YT27 air leg rock drill now and witness its impressive power, performance, and versatility firsthand.