YT28 Air Leg Pneumatic Rock Drill Pusher Leg Rock Drill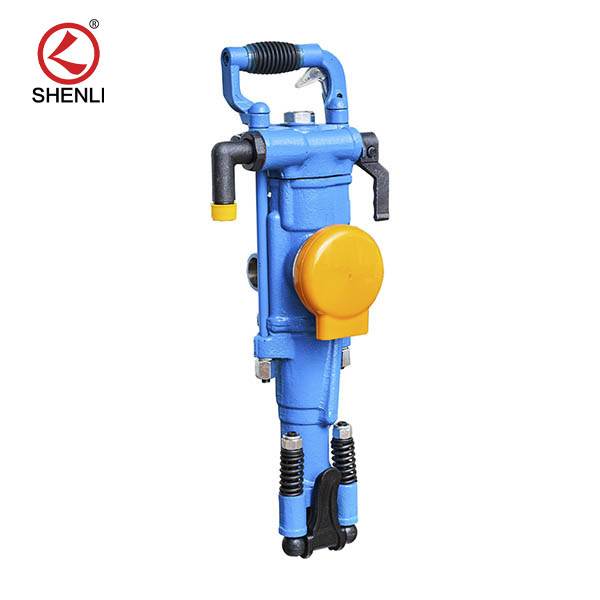 YT28 Air Leg Pneumatic Rock Drill Pusher Leg Rock Drill
Short Description: The YT28 air-leg rock drill is a kind of high-efficiency, energy-saving and environmentally friendly rock drilling equipment. Compared with similar pneumatic products, the YT28 ai……
Short Description:
The YT28 air-leg rock drill is a kind of high-efficiency, energy-saving and environmentally friendly rock drilling equipment. Compared with similar pneumatic products, the YT28 air-leg rock drill has the advantages of low failure rate, fast rock drilling speed, long service life of wearing parts, low noise, light weight and simple operation
Product Features:
1、The height of the machine is moderate and the range of the stroke is large, so it can drill the anchor holes which are perpendicular to the roof surface, which solves the problem that the anchor holes in the roadway are not perpendicular to the surface of the roof for a long time, which guarantees the quality and progress of the project, saves the construction cost and improves the efficiency.
2、Good comprehensive rock drilling performance, not only for medium hard rock drilling, but also for rock drilling with f≤6, which can be applied to both rock roadway and quasi roadway.
3、Simple structure and more durable, easy to maintain, lower maintenance cost
4、Flexible start, air and water linkage, air leg fast return, air pressure adjustment and other institutions.
5、The control handle is concentrated with the shank body, the mechanism is novel and convenient to operate with the muffler cover can effectively reduce the noise and change the direction of the row of visits at will to improve the site The operation conditions of the field
6、YT28 rock drill is suitable for wet rock drilling of medium hard or hard rock.
Application areas:
Mining, traffic, tunnels, water conservancy construction, quarries and other work
Technical parameters:
| | |
| --- | --- |
| Product Model: | YT28 |
| Net weight: | 26KG |
| Total length: | 66.1CM |
| Air consumption: | ≤81L/S |
| Impact frequency: | ≥37Hz |
| Drilling diameter: | 34-42mm |
| Piston diameter: | 80mm |
| Piston stroke: | 60mm |
| Working air pressure: | 0.63mpa |
| Working water pressure: | 0.3mpa |
| Drilling depth: | 5M |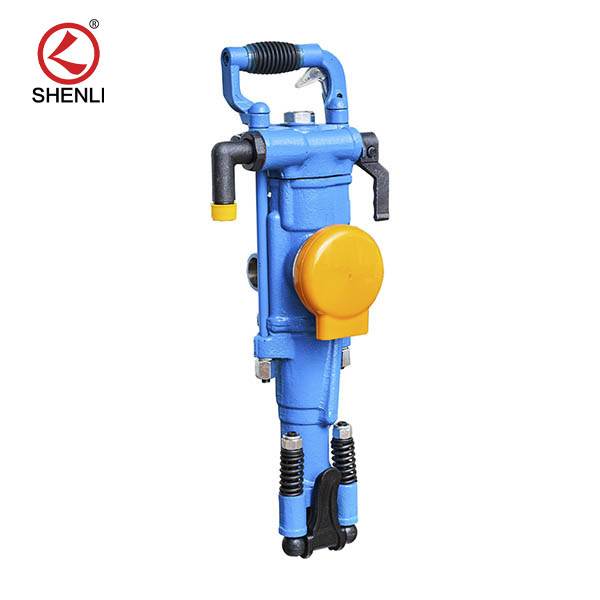 Our brand new product is an industrial grade drilling machine that can tackle even the most challenging conditions with ease. Its compact yet powerful design offers a moderate height and large stroke range – enabling effortless drilling of anchor holes perpendicular to any roof surface. This eradicates a prevalent construction issue where anchor holes in roadways are left misaligned from roof surfaces over time.
The drills innovative technology maximizes efficiency whilst minimizing costs – providing contractors & engineers peace of mind about project progress & quality assurance measures. With its superior quality outcomes regarding anchor hole precision comes unrivalled structural safety benefits across all types of constructions.
This versatile tool showcases exceptional comprehensive rock drilling performance that penetrates various medium hard surfaces with minimal effort – expanding processing possibilities for your industrial needs. And lastly our powerful motor engineering ensures optimal performance under prolonged and heavy usage timescales.
Efficiency meets versatility with our latest drilling machine that boasts a unique design for easy operation and maintenance. In order to prioritize operator safety and prevent accidents we've gone above industry standards by including a variety of safety features.
This powerful machine is perfect for a range of applications such as construction or mining projects. As always our philosophy is centered around providing customers with exceptional products that meet their needs.
Trust us to deliver on this promise with our latest product that offers both efficiency and effectiveness.