electric jack hammer vs pneumatic
Construction workers commonly are equipped with either an electric or pneumatic jackhammer for executing tasks. This article will explore the distinctions between each tool, as well as determine which is better suited for the job at hand.
Electric jackhammers provide optimal use for those with small spaces or living in residential areas due to their size and lower noise levels. Comparatively more compact and lightweight than pneumatic jackhammers, these tools are easy to transport and require less maintenance. However, electric jackhammers deliver lesser power than their pneumatic counterparts, thus, making them less suitable for powerful, heavy-duty tasks.
Pneumatic jackhammers, which rely on compressed air for operation, are much larger and weightier than their electric counterparts. This makes them trickier to move and use in cramped spaces. Additionally, they tend to be noisier, making them less suitable for employment in residential areas. Despite this, pneumatic jackhammers provide far greater power than electric ones, which makes them ideal for dealing with tougher jobs. Plus, they involve less upkeep than electric models and boast enhanced durability, rendering them the perfect choice for long-term assignment.
Determining whether an electric or pneumatic jackhammer is the appropriate choice for a specific task depends on the nature of the project and the environment in which the tool will be utilized. If the task is a light-duty assignment, like something one would find in a residential area, then an electric jackhammer is likely to be the optimal solution. However, for more intensive work in a commercial or industrial setting, a pneumatic jackhammer is probably your best bet.
In the end, irrespective of the job and the environment, selecting between an electric and a pneumatic jackhammer will ultimately depend upon careful evaluation of the respective advantages and disadvantages each bring to the table. Regardless, electrical alternatives offer increased portability, making them perfect for quick transportation in addition to usage in less powerful applications. Alternately, pneumatic models are relatively heavier but suitable where greater power is required.
For any construction or demolition work, it is essential to decide on the right equipment to deploy.The two most prevalent tools for these tasks are electric and pneumatic jackhammers, each with their own set of advantages and drawbacks. It is therefore essential to review the job first and then consider which one would be more suitable.
Electric jackhammers are a great alternative to their pneumatic equivalent, as they require minimal maintenance and are easier to operate. Despite being agile in weight, these tools are limited in terms of power, but their noise production is less than that of their more powerful brethren. However, the advantage of electric jackhammers is overshadowed by their lack of efficiency, so they are not suitable for every task.
Pneumatic jackhammers have the advantage of being able to break through tough materials with remarkable strength and speed. Working with greater efficiency than electric jackhammers, these tools are able to cover a larger area in a shorter amount of time. While pneumatic jackhammers are more robust and reliable, they are also heavier and harder to operate, as well as needing more frequent upkeep and maintenance.
When attempting to determine which type of jackhammer to use for a particular project, it is essential to evaluate the expected work size and complexity. An electric jackhammer should generally be used for smaller projects that don't demand an extensive amount of power. Conversely, if the goal is to administer substantial power and amplify productivity, a pneumatic jackhammer is typically recommended.
When you are selecting tools for your next project, the price is an essential part of the equation. Electric jackhammers are often the more affordable choice, but may not deliver enough strength for your task at hand. Pneumatic jackhammers are usually more expensive, yet they may prove more effective since they often provide greater power.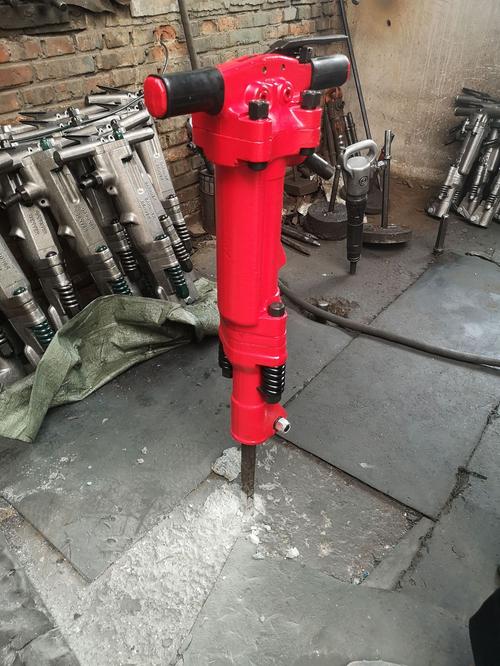 The safety of the tools used is a paramount consideration. Electric jackhammers can be a source of danger if they are not used properly due to the numerous sparks they bear. Fortunately, Pneumatic jackhammers emit a fewer number of sparks and produce less vibration than their electric counterparts, making them marginally safer.
All things considered, electric and pneumatic jackhammers each offer their own perks and drawbacks. When trying to decide which one to use, the scale and type of the task, the cost of the equipment, and its safety must be taken into consideration. Ultimately, the choice of which jackhammer to use lies with whomever is undertaking the job.