jack hammer definition
Jackhammers are often the go-to solution when it comes to demolishing hard surfaces such as concrete, asphalt, and rock. Also referred to as demolition hammers, pneumatic drills, and percussion drills, these strong, mobile tools are powered by an internal combustion engine, compressed air, or an electric motor. The ultimate purpose of a jackhammer is to break apart surfaces and drill holes in the ground for various projects.
The jackhammer is an engineering marvel consisting of three essential components; the hammer, the motor, and a chisel. The hammer delivers potent blows to break through tough materials, whereas the motor and chisel collaborate to provide energy and motion capabilities.
While operating a jackhammer, one must always make sure to take necessary safety precautions; this includes wearing protective eyewear, earplugs, and a dust mask to keep particles created by the powerful vibrations from making contact with skin. One should always place the jackhammer on a flat surface like a workbench or wall before beginning use, and should always stand off to the side to lessen the potential for injury. For extra precaution, it is important to remember to never position one's hands or feet in the trajectory of the hammering motion.
In order to use a jackhammer safely, it is crucial to have the vicinity clear of any debris and far away from anything combustible. Additionally, operating in an area with good air circulation is highly recommended as well. Lastly, the jackhammer should be shut off or unplugged whenever it is not being used.
Whenever hard surfaces such as concrete, asphalt, or rock need to be broken apart, a jackhammer is the tool of choice for many in the construction industry. In addition, these tools are also useful for efficiently installing underground pipes and cables, and even for taking apart structures for demolition. For each of these applications, various attachments with different blades, chisels, and drill bits can be fitted onto the jackhammer to maximize its capabilities.
Powering jackhammers can come in several forms, such as internal combustion engines, compressed air, or electric motors. For maximum power output, gasoline or diesel engines are the go-to options. For efficiency and ease of use compressed air is the next best choice. Indoors, the quietest solution is to go electric.
The Jackhammer is an incredibly powerful tool that requires both caution and respect when being handled. It is able to generate immensely strong strokes and should never be operated by someone who has not been adequately instructed. However, with the correct training, a jackhammer can be a compelling tool that can expedite a range of tasks with great ease.
A jackhammer is an irreplaceable aid for countless building assignments. This source of mechanical energy is a particular kind of pneumatic drill, employed for demolishing solid materials such as concrete, asphalt, and rock. An air compressor gives it its impetus and a chisel-style bit is utilized to fracture the material apart. This machinery has been a stalwart workhorse for more than a century, and still remains a favorite instrument for numerous professionals today.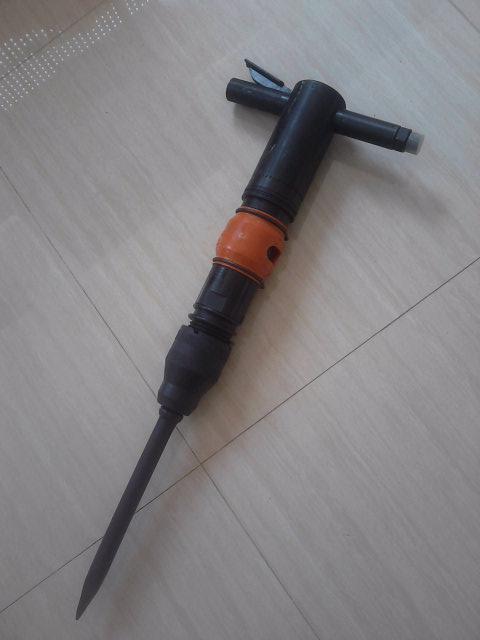 The typical jackhammer is made up of a handle, motor, and a chisel-like component. This hammer's motor is powered by an air compressor and connected to the handle which is held by the operator. A durable steel alloy typically constructs the bit, used to bulldoze through stubborn materials such as concrete, asphalt, and rock. The user firmly grips the handle and plunges the drill into what needs shattering until it succumbs to the pressure.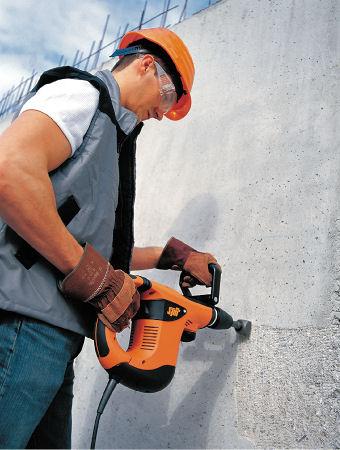 The jackhammer employs a piston to bring about a damaging thumping action. This force is cultivated when high-pressure air is thrust through a cylinder and released from the end of the drill bit. As a result, the drill bit vibrates at an immensely rapid rate, demolishing the surrounding material. Additionally, a valve is present, enabling the user to alter the power of the thumping action and regulate the velocity of the drill bit.
From construction work to mining, jackhammers are a vital tool within many industries. They can be utilized to chisel away at existing concrete foundations to make way for new structures, or they can be applied in striping away rocks and boulders for quarrying and tunneling operations. In addition, they are often used to scrape and gouge trenches for plumbing as well.
Jackhammers, although helpful for many tasks, can pose a risk to those operating them. As air powered, these machines create tremendous noise levels that may put one's auditory health at risk and cause exhaustion if duties are lengthy. Moreover, it is essential that all safety equipment, such as protective gear, be used to prevent materials from flying in unpredictable directions during the process.
Jackhammers are a valuable tool for getting the job done right in the construction and tradespersons' worlds. The powerful operation of such devices provides great success when breaking apart anything from concrete, asphalt, to rocks. Unfortunately, without complete safety precautions, the use of jackhammers can be very dangerous. However, if used correctly, it can be implemented adeptly and without risk.
Previous:
jack hammer shark
Next:
g7 jack hammer